There's no exact cost for pool deck resurfacing in the above calculator. It gives you an estimate based on materials and labor costs in your area, as well as things like shape, size and access. Be sure to hire the best pool resurfacing contractor in your area to make sure the cost is right and the quality is good.
What Is Pool Deck Resurfacing?
Resurfacing a pool deck improves its appearance and integrity by replacing or refurbishing its surface. The old surface is usually removed, any damage underneath is repaired, and then a new layer of material is applied. A variety of materials can be used for this, including concrete, pavers, stone tiles, and many more.
In addition to improving the appearance of the pool deck, the new surface can also improve traction and durability. When properly maintained and cared for, a resurfaced pool deck can last for many years. Resurfacing a pool deck varies in cost depending on its size and materials, but it can be an excellent investment.
Can A Concrete Pool Deck Be Resurfaced?
A concrete pool deck that is outdated or damaged can be resurfaced to restore its appearance and feel. During resurfacing, a high-performance material is used to coat and seal the concrete surface, creating a smooth, even, and attractive appearance. In some cases, resurfacing can be a quick and cost-effective method of restoring an existing pool deck surface.
Concrete resurfacing involves cleaning and prepping the existing surface, applying a bonding material, and then adding a thin layer of resurfacing material. Resurfacing materials can also be enhanced with decorative accents and colored finishes to improve their appearance. A sealer may also be applied to areas that require extra protection.
In selecting a resurfacing material, it's important to consider the characteristics of the concrete surface and how much wear and tear it will endure. Depending on the pool deck surface, different types of resurfacing materials are required for optimal performance and longevity. Resurfaced concrete pool decks can last for many years with proper installation and maintenance.
What Is The Best Pool Deck Resurfacing Material?
When it comes to pool deck resurfacing, you want something that looks great and lasts long. Depending on your goals and budget, there are several different materials you can use.
Stamped Concrete: In stamped concrete, a mixture of concrete and acrylic polymer creates a durable, slip-resistant surface that can be customized with a variety of colors and patterns. The material is easy to clean, resists fading, and can be used to cover up imperfections.

Pavers: A variety of shapes, sizes, colors, and textures are available when it comes to pavers. They are easy to install, low maintenance, and can be interlocked to create a custom look. The slip resistance of pavers makes them an ideal choice for pool decks.

Travertine: If you're looking for something a bit more luxurious, you might opt for travertine or marble. These natural stones are beautiful and provide a classic look that stands the test of time. In addition to being heat-resistant, they're perfect for pool decks that get a lot of sunlight.

Rubber Coating: If you're looking for a soft underfoot surface, rubber and foam are great options. Cushioning is provided to prevent falls, and they can be cut to fit any shape or size.

Wood: Choosing wood is an excellent way to create a natural look without breaking the bank. You can paint or stain it to match your existing color scheme, and it's easy to repair or replace individual boards if necessary.

Pebble Epoxy: If you're looking for an exclusive, custom look that stands out from the crowd, pebble epoxy is the right choice. Using epoxy, you can create a durable, non-slip surface in a variety of colors and textures. A busy household will also appreciate its low maintenance.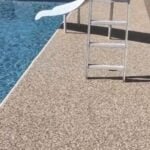 Resurface Pebble Pool Deck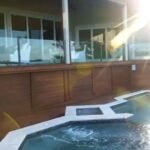 Wood Pool Deck Resurfacing
Stamped Concrete Pool Deck Resurfacing
Rubber Coating Resurface Pool Decks
Pavers Resurface Pool Deck
Travertine Resurface Pool Deck
No matter what material you choose for your pool deck, it will look great and last for a long time. You'll enjoy your outdoor living space for many years to come with the right selection. Don't forget, if you want to make any major changes to your pool deck, you should always consult a professional. This will ensure that you get the right material for your budget and needs.