Everyone loves dogs, but in order to keep people and their furry friends safe, there must be rules. There are many things to think about when deciding whether or not to bring a service or public dog to a public pool. When you bring your dog to a public pool, the safety of both people and animals is the most important thing to think about.
When there are a lot of people or other animals around, dogs, especially big breeds, can be unpredictable and more likely to get hurt or hurt someone else. Because of this, it is important that all dogs at a public pool are well-trained, friendly, and being watched. Also, all dogs must be up-to-date on their shots and free of any diseases or parasites that can spread.
What are Service Dogs?
Service dogs are animals that have been trained to help people who have disabilities. Before they can go into public places with their handlers, such as restaurants, stores, and public pools, these animals have to go through a lot of training and get certified by an organization that is recognized by the U.S. Department of Justice. Service dogs are usually bred to do certain things, like find someone, react to sounds or movements, retrieve items, or give emotional support.
Can Service Dogs Swim In Public Pools?
Most public places, like parks and pools, let service dogs in. In fact, people with disabilities and their service dogs have the same rights and privileges. This means that service dogs can go to public pools with their owners as long as they don't make a lot of noise or put other swimmers in danger.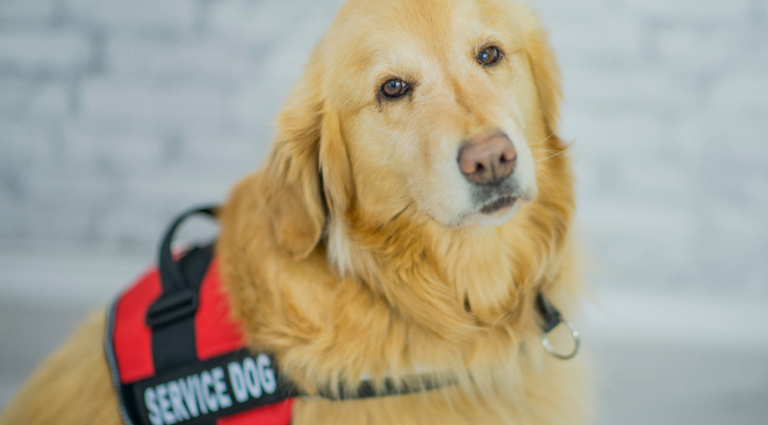 The pool also has to make sure that the service animal follows all safety rules, like wearing a life jacket or other safety gear. It's important to remember that service dogs can go into public pools, but they can't be left alone in the water. They must always be with their handler.
Why Other Dogs Are Not Allowed In Public Pools?
While service dogs are allowed in public pools, it is important to note that not all dogs are considered service animals. Some animals, like therapy dogs and emotional support animals, are not as protected by the law as service animals are. Because of this, it's possible that these animals won't be allowed in public pools.
It's also important to keep in mind that pool owners may still have more rules about what kinds of animals can swim in their pools. For example, you might not be able to bring an animal to a public pool that could bother or hurt other people. Pool owners can also decide how many animals can swim in their pools at one time.
In the conclusion, service dogs are allowed in public pools, but other animals might not be. No matter if the animal is a service animal or not, you should always check with the pool owner before bringing it to the pool. By knowing and following these rules, everyone can make sure that their time in the pool is safe and fun for people and animals alike.